The CDM Team travels to London to attend the ISDA, ICMA and ISLA event
Last month, the TradeHeader's CDM team had the opportunity to attend the CDM Showcase, celebrated in London. After contributing to the project for almost two years, this was a great opportunity for us to discover the different applications of the CDM, as well as to meet our collaborators from ISDA and REGnosys in person. So, on Monday 20th, we took a flight to Gatwick Airport.

Our hotel was in Shoreditch, an arty neighborhood located very close to the City of London, the financial district of London. Upon our arrival, we were amazed by the impressive, high, and glassy buildings. A modern and professional atmosphere filled every street. We realized that London had much more than just red phone booths and buses!



Since hard days of work were ahead of us, we decided to relax while having lunch at an Indian restaurant and, afterwards, spend the rest of the day visiting some iconic places, such as the Tower of London or the Tower Bridge. It was a great time to share with the team walking, taking photos, having a drink, and enjoying the good vibe of London.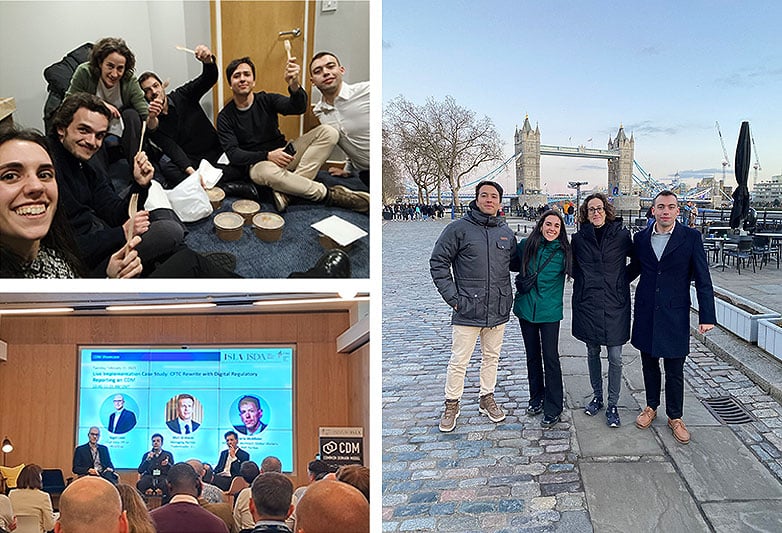 The following day, after having an English breakfast, we went to the Barclays' Rise offices, where the CDM Showcase was taking place. Several talks were programmed to present the different ways in which CDM is being used today. Marc, representing TradeHeader, took part in the third one. Next to Nigel Cobb and Harry McAllister, they provide a complete introduction to the DRR model.
The whole event was truly inspiring, as we were able to step away from the part we always focus on and see the project from multiple perspectives. During the event, we could connect with other experts and engage in brainstorming conversations with them.

However, the journey wasn't all about working. In the evening, we also went for a pint at a local pub called The Fox, together with our colleagues. It was a lot of fun getting to know each other better and strengthening our team dynamic.

Our trip culminated the day after, working with the ISDA team at their offices. Throughout the morning, we caught up on the status of the project and shared insights and ideas to make it grow. It was totally stimulating to meet in person after more than one year doing it virtually.

As we boarded our flight back to Barcelona, we realized how successful the trip had been.
We didn't only achieve our business objectives but also had the chance to immerse ourselves in the culture and beauty of London.



This was an unforgettable experience, especially for some of us, which was our first business trip. We came back full of energy, knowing each other better and eager to keep on pushing the development of CDM and DRR.