The RepoHack was a hackathon organized by Barclays in collaboration with ICMA, the Repo industry association, that defined a set of problems in the Repo industry that the teams participating needed to solve to win. The problems involved the use of the Common Domain Model (CDM) together with a set of web services defined by the organization. The event was held on the Rise in London, during September 27th and 28th, 2023.
Our team, consisting of Roger, David, Arnau, and Laura, embarked on a trip to London for the event. While the first three traveled together, Laura joined us from Madrid.
In between our packed schedule, we managed to squeeze in some sightseeing. Our brief excursions took us to Buckingham Palace, London Eye, Tower Bridge, and Westminster Abbey.

Our culinary experiences were memorable. We had burgers with crunchy bacon for lunch and enjoyed some snacks at a local pub for dinner.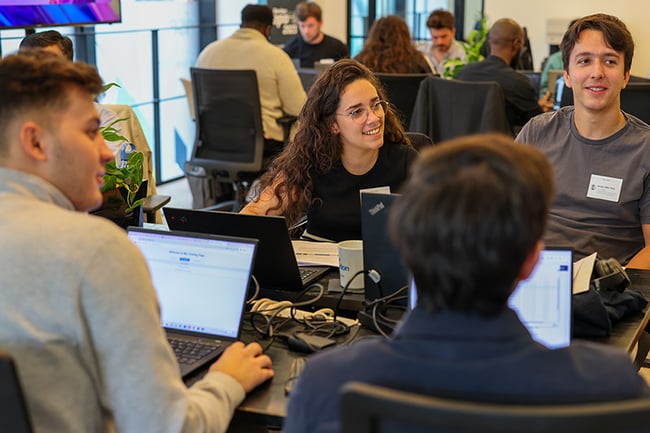 Conveniently, our hotel was located just five minutes from the Rise building, the hackathon venue. This allowed us to do some last-minute preparations the night before. We went to bed early to be fresh for the next day's challenges.

Early next morning, we eagerly set out for the hackathon venue. Arriving just as the event was starting, we were greeted by the organizers and got our first taste of the atmosphere at the Rise Barclays building. This was a great opportunity to exchange friendly greetings with the other teams in the competition. We crossed paths with CapGemini, Lab49, JP Morgan, London Reporting House, Transcend, and Barclays (although the latter was participating just for "fun" rather than prizes, for obvious reasons).

After the warm welcome and an introductory speech by the organizers, we delved into the four intriguing use cases at hand, all centered around Repurchase Agreements, or Repos. These are financial transactions that involve one of the parties to temporarily lend a security to the other party in exchange for cash, with a prearranged agreement to buy back that security at a later date, typically at a higher price.

As we dug into the use cases, a hired cameraman added an interesting twist to our focus. He walked around the room, capturing images and videos of the different teams' efforts. At times, it has to be said, it felt like he was our silent partner, standing near us with the camera pointed our way. At one point during that first day, each team nominated a representative for a brief interview to be part of a post-event video. In our squad, David stepped up for the task.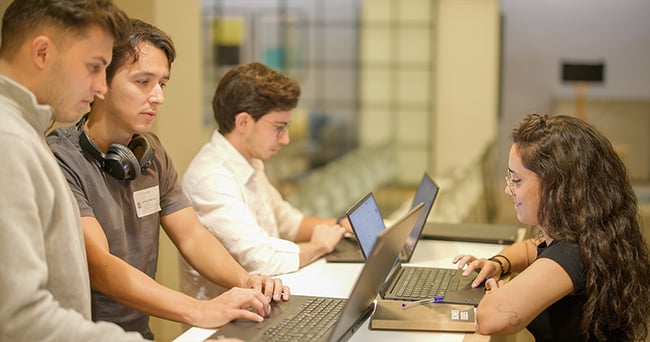 After working tirelessly from 9 AM to 9 PM on the first day, we sought some tranquility in a much-needed dinner. We chose the restaurant Camino, which gave typical Spanish food like "tortilla de patatas" or "patatas bravas". By 10:30 PM, we headed back to the Hotel, and labored on the use cases until 3 AM, bracing ourselves for the looming presentation before the judges the next day. Needless to say, we did not arrive at the Hackathon building before 9 AM on the next day.

In the final stretch of the RepoHack, we refined our presentation, preparing to face the judges, and later the other teams and industry experts. Arnau and Roger took center stage this time. It's fair to admit that we were all nervous in the hours leading up to the presentation, especially with little time to rehearse and a sizable crowd awaiting. Yet, in the end, our well thought out ideas and confidence in what we were saying helped calm some of the nerves, displaying our ideas without any remarkable hiccups.

As a result of the four exercises proposed by the organizers, we embarked on developing a solution, complemented by innovative ideas. We built a web platform, utilizing the APIs provided by RepoHack. With just a few clicks, this platform enabled us to settle and clear trades. By leveraging CDM business events, we ensured consistent trade views across all parties. To guarantee that all data—whether within correlated business events or events happening simultaneously across parties—related to the same trade, we employed hashing on the trade information.
Next, we were tasked with executing variation margins settlement through calculations. Initially, we performed manual calculations and created a CDM template for processing the settlement.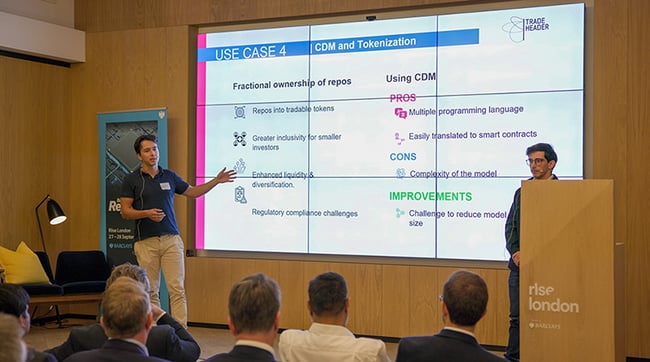 However, we identified a more efficient approach than performing those calculations manually. We proposed settling through a service incorporating an AI chatbot. This service would connect with CDM to create business events, execute necessary calculations, and could be trained for the repo environment, with flexibility for customization if required.
Envisioned as a user-friendly interface, users could input commands like "Create a Business Event containing a Transfer instruction for the trade with Id [tradeId]." The AI would then prompt users with questions to complete the template and execute the event, along with all calculations.

Additionally, it could be linked to an oracle to check the current value of collateral, if necessary.

Throughout these exercises, we identified gaps in the CDM implementation of repos and suggested improvements.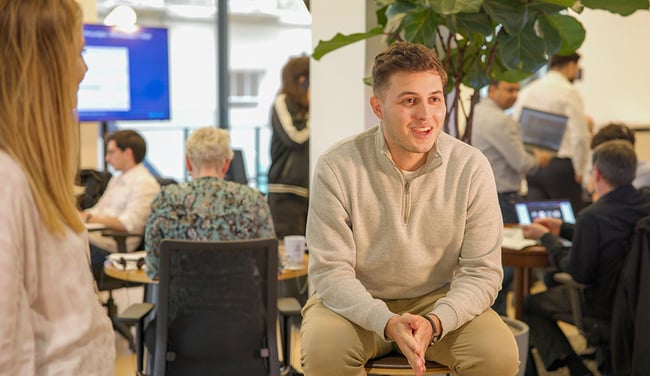 In alignment with the hackathon's goal, we explored connecting the world of repos with blockchain and proposed the concept of fractional ownership of repos. We're convinced that transforming repos into tradable tokens will enhance inclusivity for smaller investors, boost liquidity, and diversify investment opportunities. While challenges exist, such as navigating regulatory compliance that currently do not apply to this type of trading, we are optimistic about the feasibility of our proposal.
After showcasing our ideas to a distinguished jury, comprised of Lee Brain (Barclays), Gabriel Callsen (ICMA), Minesh Patel (REGnosys), and Peter Left (Lloyds bank), and subsequently sharing them with all the participants and industry professionals eager to hear about it, we were honored to receive the second prize. Representing TradeHeader at this event was a tremendous opportunity, and achieving this success as a team makes us exceptionally proud.